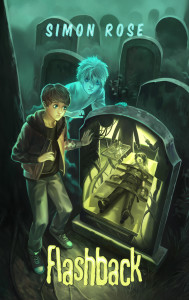 "Right from the very first sentence I was engaged, and I could not wait to find out what happened next. The book was thrilling and it kept me on the edge of my seat. I read it quickly and then reread just to savour the wonderful words. I am very happy that there is a sequel to it."
Amazon, October 2017
"My ten-to-fourteen year old self would probably have devoured this book three times in a row, probably under the covers with a flashlight. Unlike other authors I'd read at the time, Rose doesn't patronize his younger audience; rather, he allows his protagonist to follow a lead to its next logical step. Rose also leaves some complex words in the story and instead of substituting easier words or explanations, he trusts his readers to go find a dictionary. He also doesn't flinch from action or certain potentially gory details. My younger self would probably have been creeped out (in a good way) for weeks after reading this book.
My older self has some hang-ups with a couple of plot points, but nothing I would have noticed when I was younger.
I would recommend this book to any young reader who wants to escape from romantic YA mush and get into something a little more gritty."
Goodreads, October 2015
"I forget sometimes why I love reading and then I come across a book like this that reminds me of that other place that we live in inside our minds. Flashback has literally given me a flashback to all the books I enjoyed when I was younger and why I enjoyed the hour or two I stole in my day to sit down and escape. This place, this story, this world that Simon Rose has created is a wonderful place to escape to. Put your imaginations in the hands of this wonderful author just as his character David puts his life in the hands of our protagonist, Max. Let them take you on an adventure through time."
Amazon, August 2015
"Flashback is an action-packed adventure perfect for middle grade readers.  Young readers will enjoy the plot-driven story rife with the supernatural, bad guys, evil experimentation, and time slip. While I found some of the plot progressions to be a little contrived, I think younger readers will appreciate the fast pace and suspenseful thrill of learning what really happened to David Dexter courtesy of a middle-grade sleuth."
Canlit for Little Canadians, March 2016
Read the full review here.
"Review by my 10-year old daughter. I am so happy she has found Simon Rose's books. She loves them all.
This book is about a guy who goes into another guy's memories to save the world. He is scared, but he feels he has to. Flashback was a great book. Max and Deanna were very well developed, they made me feel like I knew them. I read this book five times, I liked it so much."
Amazon, August 2016
"This is the second book written by Simon Rose that we have been honoured to review. It certainly was another great book.
This book starts with fourteen year old Max visiting a cemetery with a friend and finds himself caught up in the adventure of a lifetime. He suddenly gets flashbacks and discovers the fate of another boy lies in his hands.
Max must travel back in time to right the wrongs of the past. You are taken on a journey that is completely unexpected, and ended up somewhere you never would have expected. I love to be surprised when I read and was not disappointed! Professor Owl's Book Corner will certainly be looking for more of Simon Rose's books to share with our readers."
Amazon and Professor Owl's Book Corner, August 2015 
"An imaginary friend, a mystery, and time travel? How could I resist?"
"Flashback" kept me entertained and I enjoyed it. For the most part, it all meshes well and Rose kept me reading; I had to know what happened."
 Bea's Book Nook, June 2015
Read the full review here.
"You have taken a journey with this one that I found completely unexpected, and ended up someplace I never would have guessed. I love to be surprised when I read and you did not disappoint! Seems I'll be picking up a few of your other books quite soon! Thanks for the ride!"
Amazon, June 2015
"Fourteen year old Max visits a cemetery with a friend and finds himself caught up in the adventure of a lifetime. He suddenly gets flashbacks and discovers the fate of another boy lies in his hands. Max must travel back in time to right the wrongs of the past. This is a great book for teenagers and will appeal to both boys and girls. I generally find books that involve time travel become confusing and too farfetched. Flashback is the exception. Simon Rose manages to keep it simple enough that the reader doesn't need to get caught up in the details. They simply get to enjoy a good story."
Ashley Howland, June 2015