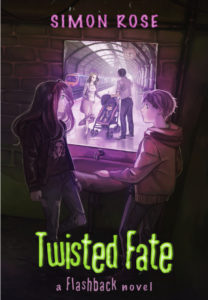 "Twisted Fate kept me on the edge of my seat the whole time. Time-travel, secrets, visions, paranormal activity, psychics; there isn't anything this book doesn't explore. I would highly recommend going on this adventure. The book is not only well written, it provides many twists that you won't see coming!"
Amazon, May 2017
"Max was always told his mother jumped in front of a train, but on his fifteenth birthday he receives a box of her belongings. Suddenly he starts having dreams and visions. Is it possible she was pushed? Could he prevent the whole thing from happening and change his life? Twisted Fate is a tale full of time shifts, paranormal and nonstop adventure.
I will admit I am hesitant to rate time travel books highly. They are often confusing or far too easy to pull apart. However I have now read a few of Simon's books and have to say he does time travel well. Once again he has produced a book full of action that is believable and easy to follow. Twisted Fate is a great read."
Ashley Howland, June 2017
"A tattered photograph. A lock of hair. Keepsakes of his mother have triggered strange dreams for Max, dreams of a dank prison cell and an oddly familiar teenaged girl. But it's the disturbing vision of a train accident that convinces Max to investigate his mother's death.
During his investigation, Max discovers a connection with Julia, a classmate with dark secrets of her own. Her mother also died mysteriously and was linked to Project Mindstorm.
I would highly recommend going on the adventure in "Twisted Fate" with many twists and turns. Time-travel, visions of paranormal activity, secrets and psychics; a book that explores everything.  Once I picked the book up I could not stop reading until I finished it.  I always love to read Simon Rose's books, they are great to read for most ages.  Looking forward to his next book."
Amazon and Professor Owl's Book Corner, June 2017