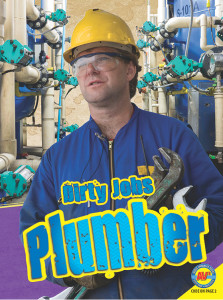 Plumber is part of the Dirty Jobs series.
A plumber installs, repairs, and maintains pipes in homes and businesses. These pipes are used to carry drinking water. This is also called potable water. Plumbers also work on pipes and systems used for drainage, irrigation, and sewage. Pipefitters and steamfitters install and repair pipes that move liquids and gases.
The word plumber comes from the Latin plumbum, which means lead. The Romans used lead to make pipes for carrying water. In medieval times anyone who worked with lead was called a plumber.
Published by Weigl Publishers
Release Date: 2015
ISBN: 978-1-4896-2994-4 (hardcover); 978-1-4896-2995-1 (softcover)
Ages 8-12     Grades 4-6

Just a few places where you can buy Plumber
Amazon Canada     Amazon USA     Barnes and Noble     Amazon UK     Amazon Germany