Feb 23, 2021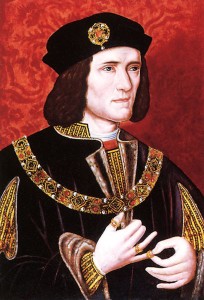 Richard III of course appears in The Sorcerer's Letterbox, based on the well-known mystery of the Princes in the Tower.
A forensic study on the bones of the monarch reveals that he died a brutal death at the hands of his enemies. Everyone knows that medieval warfare was a very violent and vicious business, but the report is still very enlightening. It also fits in with contemporary stories of the king's death. To some degree it also fits with Shakespeare's play. Although the playwright's  account of the king and his reign is often dismissed as heavily influenced by Tudor propaganda, Shakespeare does mention that Richard III lost his horse before he was killed. The forensic report indicates that the king was probably on his knees when he was killed by his assailants.
A skeleton found beneath a Leicester car park was confirmed as that of English king Richard III in early 2013. Experts from the University of Leicester said DNA from the bones matched that of descendants of the monarch's family. Back then, lead archaeologist Richard Buckley, from the University of Leicester, told a press conference that "beyond reasonable doubt it's Richard." You can check out  the full story here on the BBC website.