Mar 3, 2021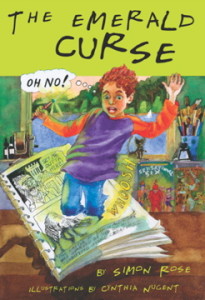 The Emerald Curse
Charles Kelly was the world's greatest comic book artist, until he disappeared without a trace. Two years later, his grandson Sam discovers a mysterious pen in Kelly's attic studio. Sam is soon propelled into a bizarre dimension, where super villains are all powerful and disturbingly real, and finds himself in a deadly confrontation with an evil entity, imprisoned inside a mystical gemstone since the dawn of time.
The Emerald Curse received great reviews when it was first published and remains a favourite with young readers today.
"Fast-paced and well-plotted, elementary students are sure to love it."
"Page turning tension with a resourceful and intrepid hero … and sure to please any child who likes fantasy, science fiction and comics."
"The Emerald Curse is a very well written and appealing adventure book. Highly recommended."
"I was immediately hooked into the story and was held captive by the characters, plot, and wonderful energy felt throughout the book."
"This book is a great way to introduce a child to the genre of fantasy."
"I highly recommend this book and am sure that whoever reads it will want to read the other books written by this author."
Read more reviews of The Emerald Curse here on my website.