Jan 12, 2020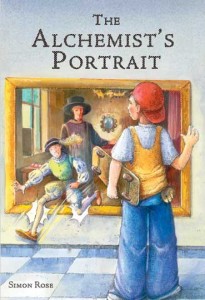 The Alchemist's Portrait
A school trip to the art gallery at the city museum leads Matthew into an eerie meeting with Peter Glimmer, imprisoned inside his own portrait by his villainous uncle in 1666. Entrusted by Peter with recovering the one object that can save the world, Matthew is sent hurtling over 300 years into the past. Encountering magic, mayhem and murder, Matthew also has to contend with Peter's uncle, the ruthless and seemingly immortal Nicolaas van der Leyden, at every turn, in a desperate race through time to save the future
The Alchemist's Portrait received great reviews when it was first published and remains a favourite with young readers today.
"The Alchemist's Portrait is a delightful and charming read."
"I absolutely loved this book!"
"The Alchemist's Portrait is guaranteed to keep junior readers in suspense."
"Author Simon Rose combines time travel with an exciting twist, and the power of magic. Well written and fast-paced this novel will keep the reader spellbound."
"Congratulations on a great read for kids."
"Complete with an evil villain, magic and suspense, Rose weaves a tale that will have young readers engaged right up until the very end."
Read more reviews of The Alchemist's Portrait here on my website.