Aug 22, 2020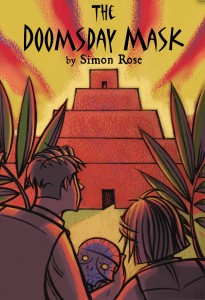 The Doomsday Mask
The legendary crystal ceremonial mask of Kulkaan, high priest of Atlantis, was believed to have been endowed with incredible powers. In the ancient civilization's destruction, the mask was thought to have been shattered and irretrievably lost, eventually being forgotten. Long considered to be a mere myth, the mask's crystal fragments have now been found and the mask of Kulkaan reassembled, with deadly consequences for all mankind. In a desperate race against time, Josh and Erica must prevent the mask from falling intact into the hands of the shadowy Crystalline Order to save the world from catastrophe.
The Doomsday Mask received great reviews when it was first published and remains a favourite with young readers today.
"Rose takes the reader on a fast-paced adventure through time and legend."
"The Doomsday Mask is a thrilling page-gripper of a mystery."
"Danger lurks everywhere as does the course of history and even prehistory."
"Juvenile readers from 10-14 will be spellbound by The Doomsday Mask, and they will learn a bit of interesting world history and paleontology along the way."
"Although The Doomsday Mask may be considered to be science fiction fantasy/adventure, it is solidly grounded in facts of known prehistorical events and speculates from these logically."
Read more reviews of The Doomsday Mask here on my website.