Apr 6, 2018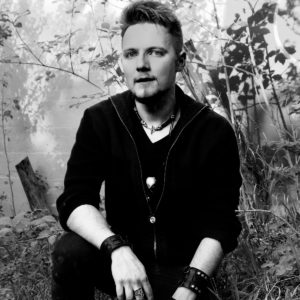 Edmonton author Konn Lavery has written in the dark fantasy (Mental Damnation) and horror (Seed Me) genres. He is a graphic designer and web developer by trade and has previously been on the blog to discuss his fantasy series. Now he is branching out into writing thrillers with his new novel, YEGman.
Konn, can you introduce yourself to everyone?
Hi Simon, thanks for having me back on the blog. I was born and raised in Edmonton and by day a contract graphic designer and web developer. This includes logo design, branding, print design, website design and development. It took a long time to build up a clientele base that would allow me to make the jump from being part time, to full time. This offers me flexibility to peruse into my writing dreams of being an indie author.
I starting writing professionally back in 2012 with the original release of Reality: Part 1 of Mental Damnation and have learned way more than I ever thought I would. Dark fantasy and horror are my primary genres but am now branching out into unknown territory with my latest release, YEGman.
Tell us more about YEGman                                                                                                                                                                            
As mentioned, YEGman is a thriller novel. In short, it is about a ex-cop named Michael Bradford, who struggles with his violent tendencies while personally investigating into the city's most notorious gang, the Crystal Moths. Early access readers have called it being the Punisher meets Sin City. Others have said it creates an unseen grittiness in Canadian crime literature.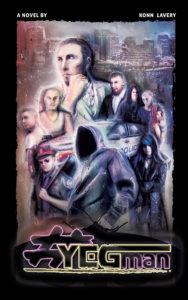 Here's the synopsis for the novel:
In the darkest streets of Edmonton, crime is around every corner. The police have exhausted their resources. Citizens are in a constant state of fear. The city is in dire need of justice. Someone needs to give the felons what they deserve – skip the courts and deliver their verdict with a fist full of fury!
At least that is what Michael Bradford tells himself. He struggles with violent tendencies while personally investigating the Crystal Moths, Edmonton's most notorious gang. His vigilante methods get caught on film and are uploaded to the web with the hashtag YEGman. These videos catch the attention of a rebellious journalism student whose aspires to cover the developing story on the city's underground hero.
How did you come up with the story?
The concept for YEGman came to me originally in 2015 at a book signing. It was fairly quiet and I had my idea book with me. Superhero stories were on the rise – and still popular today – and I wanted to take a crack at one. I was interested more in understanding the mindset of someone who thinks it is a good idea to take the law into their own hands. Why would they go through the dangers? From there I worked on developing the main character, Michael.
The overarching theme of the book itself was inspired by my musical explorations. The two mediums ultimately married into a single release. The YEGman novel has a complimentary musical score titled Sounds of Society that is also released on April 18th.
What is the age range for YEGman?
I say this a lot, but it really depends on the maturity level of the reader. With that being said, this is the most real and probably darkest book I have written to date. It brings up real world problems like police brutality, sociopathic behaviours and underground clubs. It is primarily a thriller but has a lot of noir characteristics to it.
Do you have anything else in the works?
I am currently writing a slasher novel. Mental Damnation III is out this fall and I have notes for the fourth and final Mental Damnation novel. I am not sure at this point what will come first – the slasher or Mental Damnation IV.
Any final thoughts to share with the readers?
Thanks for having me and if anyone has any questions do find me at my website or social media links below. If you are an aspiring writer, I have plenty of blog articles related to writing.
You can also pre-order YEGman on Amazon or Kobo. The launch for the book is on April 18th at Audreys' Books in Edmonton.

You can find Konn's work on Amazon and other locations online. You can also learn more about Konn on social media.