Oct 1, 2018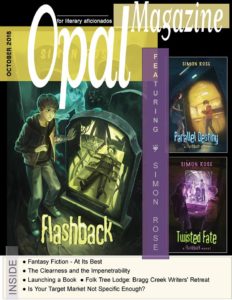 Check out the great interview in the October issue of Opal Magazine.
In the interview I talk about the Flashback trilogy, including Flashback, Twisted Fate and Parallel Destiny, upcoming projects, the writing process and more.
Opal Magazine published by Opal Publishing. Opal is a monthly digital magazine published 12 times a year. The magazine features local authors, interviews, fiction, poetry and prose.
You can read the interview and also the great review of Flashback here.