Aug 10, 2019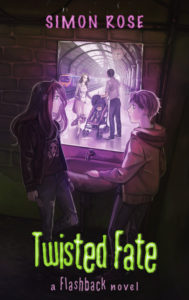 Today, I'll be appearing at the When Words Collide in Calgary literary festival at the Delta South Hotel in Calgary.
Historical Fiction for Middle Grade and Youth – August 10 at noon
This panel explores how to educate and entertain through historical fiction for youth
Time Travel: Not Just a Thing of the Past – August 10 at 3 pm
My young adult novels The Alchemist's Portrait, The Sorcerer's Letterbox, The Heretic's Tomb, Flashback, Twisted Fate, and Parallel Destiny all feature time travel, a genre that continues to be very popular with both authors and readers, as well as with filmmakers.
In this session I'll be sharing tips and tricks to weave time travel elements into the plot for any age group. Learn how to plan and realize your novel with an alternate reality element that takes the reader on a logical journey, in an illogical world.
Autograph Session – August 12 from 7 pm to 9 pm
I'll be appearing with all the authors and festival guests at the When Words Collide autograph session.