Sep 24, 2019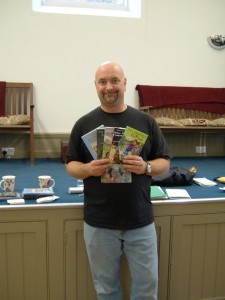 An Author in Residence program involves an author working at a school for a week or longer. This allows the students to cover certain topics in much more depth than would be possible during a regular author visit. The author can also work with the students on a specific project.
A week in residence can be designed however you'd like, to best meet the needs of the students. You can see what such a week could look like here on my website. However, this is just an example, and I'm always happy to discuss a residency with the school to determine how the time can be most effectively organized.
I offer a variety of presentations and you can see these here. However, certain sessions remain popular, such as those relating to the superhero genre, the subject matter of The Emerald Curse, or sessions about time travel, since three of my novels feature this theme.
I also offer a variety of workshops on writing topics such as character development and dialogue, creating stories for younger students in K to 2, and on popular subjects such as the fantasy realm and science fiction, but am very flexible and always happy to discuss matters with the teachers to ensure a good fit with the students. I have also worked on dramatic productions and playwriting sessions with children, both in schools and summer camps, and conduct programs very similar to a residency in my work with community associations.
I offer presentations, readings, author in residence programs and conduct workshops for children at schools and libraries. Please contact me directly for details of fees and availability.