Sep 15, 2019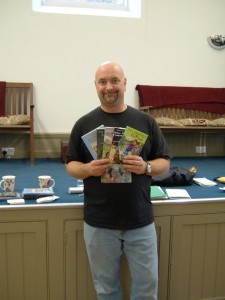 Many teachers and librarians like to host artists in a variety of disciplines at their schools each year. They know that an author visit can be inspirational, boosting student creativity and encouraging children with their own writing. And for the author, meeting their readers can be one of the most enjoyable elements of a school visit.
Younger students especially are almost always thrilled to meet a published author, especially if they have read and enjoyed their books. Examples of comments from students, teachers and librarians about my own school visits over the years can be found here. School and library visits offer an invaluable opportunity for authors to connect with their readers on a personal level and in some cases they can make a real difference in children's lives, stimulating their imagination or simply getting them more interested in books and reading.
Visiting your school allows an author to talk about their own work, their inspiration, any current or future projects, answer questions, sell some autographed copies of books, and even present themselves to an entirely new audience or geographic area. An author visit can also be very beneficial to the school, inspiring the students and may also encourage some of them to explore their own artistic creativity, whether this involves writing, illustration, painting, poetry, sculpture, photography, film or another discipline altogether.
There's no question that an author visit is usually one of the main highlights of the school year, for both the staff and the students.
I offer presentations, readings, author in residence programs and conduct workshops for children at schools and libraries. Please contact me directly for details of fees and availability.