Oct 14, 2019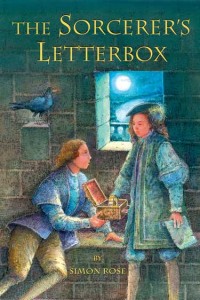 Some authors offer study guides for teachers to download from their website or to purchase, for use either before a visit or just as an ongoing teaching resource. These guides often have exercises connected to certain chapters or episodes in the novel, worksheets about specific characters, or may describe potential projects related to the subject matter of the author's books.
There are study guides for all my novels in Where Do Ideas Come From? The book examines how The Alchemist's Portrait, The Sorcerer's Letterbox, The Clone Conspiracy, The Emerald Curse, The Heretic's Tomb, The Doomsday Mask, The Time Camera, and The Sphere of Septimus can be used to create workshops and creative writing exercises. These include writing time travel stories, creating superheroes and comic books, inventing imaginary worlds and fantasy kingdoms, exploring fascinating historical eras, imagining future technological developments, and examining ancient mysteries and civilizations.
The Sorcerers' Letterbox and The Heretic's Tomb are set in the Middle Ages, so teachers can plan projects about medieval life and society, castles, warfare, research the Black Death and other historical events. The plot of The Alchemist's Portrait involves an art gallery in a museum and students can be asked to draw inspiration for some creative writing exercises by examining classic paintings and portraits. Children can create superheroes and comic books using The Emerald Curse as a resource or even invent their own unique board game.
Where Do Ideas Come From? provides suggestions and recommendations for teachers developing classroom projects based on the books but might also serve as inspiration for aspiring writers of all ages. I also have word search puzzles for children to download at any time, although I also encourage teachers to make use of these before an author visit, to familiarize the children with my work. Teachers can also access The Super Scavenger Search, where the answers to a series of mind-boggling questions are hidden in different pages all over my website.
Resources like these enable students to learn about the author and thus have lots of great questions on the day of the visit. 
I offer presentations, readings, author in residence programs and conduct workshops for children at schools and libraries. Please contact me directly for details of fees and availability.