Apr 24, 2019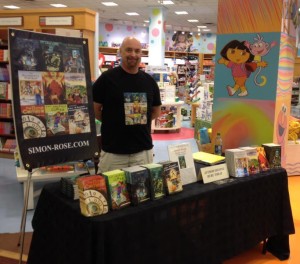 This week, I'll be exhibiting at the Calgary Comic and Entertainment Expo. You can find me in booth number 5209 in the Big Four Building.
You can buy autographed copies of Shadowzone, Into the Web, Black Dawn, Parallel Destiny, Twisted Fate, The Time Traveler's Guide, The Children's Writer's Guide, Future Imperfect, Flashback, The Sphere of Septimus, The Time Camera, The Doomsday Mask, The Heretic's Tomb, The Emerald Curse, The Clone Conspiracy, The Sorcerer's Letterbox, and The Alchemist's Portrait
You can also learn more about my many services for writers, including editing, coaching, school programs, workshops, as well as my copywriting services for businesses and social media, or you can just stop by and say hello.
I'm also making some presentations and appearing on a panel this year. Check out the schedule here.
April 26
Writing for Children and Young Adults – Palomino H, BMO Centre 4.15 pm
Explore research, planning, pacing your story, developing characters, connecting with the reader, choosing settings, the role of adults in children's stories, and more.
Creating Immersive Fantasy Worlds – Palomino AB, BMO Centre at 7.15 pm
Five fantasy authors discuss how they approach writing fantasy. Each author will share their preferred sub-genre and why. They'll elaborate on how they each tackle creating mythos, world building, magic systems, creatures, and races.
April 27
Time Travel: Not Just a Thing of the Past – Palomino AB, BMO Centre at 4.15 pm
Learn how to plan and realize your novel with an alternate reality element that takes the reader on a logical journey, in an illogical world.
This is the only festival in Calgary where you can get your sci-fi, film, television, fantasy, horror, comic book, gaming, and animation fix all in one incredible weekend. Join 100,000 other fans for this celebration of pop culture at the Calgary Comic and Entertainment Expo taking place at BMO Centre, Stampede Park on April 25, 26, 27, and 28.
Hope to see you there.